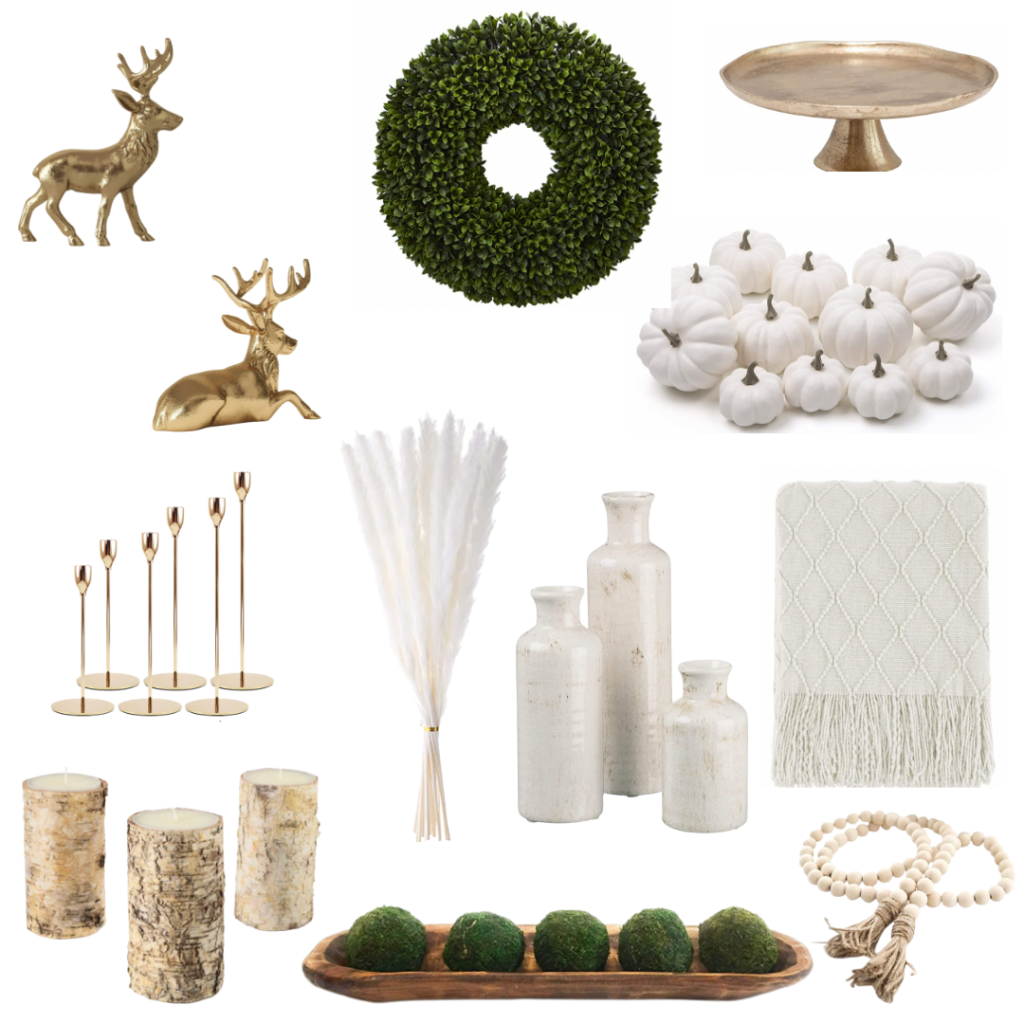 I know it's only November, but hear me out. It's time to start bringing out your holiday decor (or at least start deciding on an inspiration for this year's look)!
Don't stress – there's no need to go from 0 to 100 and have your house looking like the North Pole before Thanksgiving even hits. Instead, opt for subtle pieces in muted tones that can transition from Fall to Winter with you. Not only will this make your holiday decor feel upscale, but it will also allow you to enjoy your seasonal pieces longer.
To help you get started, I've put together an inspiration board for you and rounded up all the links you'll need to achieve this look in your home. Decorating for the holidays has never been so simple!
For this look, I was inspired by the classic Boho style, infused with a bit of glamour. I looked for pieces in whites, warm golds, and light wood tones – with some natural greenery as accents.
If you try out this style for your holiday decor this year, don't forget to tag EDesigns and Co. on Instagram so I can see the finished look!
Here are all the items you'll need to bring the "Festive Fall Neutrals" holiday look to life: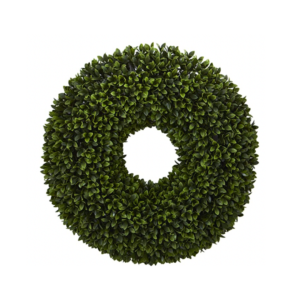 No holiday look is complete without at least one wreath! But that doesn't mean you have to go "traditional" with it this year.
This 24″ wreath uses greenery that is less likely to be associated with the winter holidays, so it's a perfect transitional piece!
The fresh green color will add a pop to your holiday decor, and the unique spin will set your holiday decorations apart from the rest.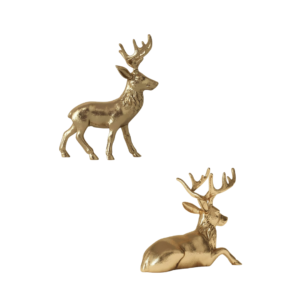 2. Golden Reindeer
How regal are these golden reindeer? These handsome guys would look great on your mantle, as part of your table centerpiece, or dressing up your shelves!
The best part about holiday decor is that you can go as subtle or as dramatic as you prefer. You don't have to cover every surface of your home in garland to create a festive atmosphere. Just a few tasteful accessories will be enough to set the vibe all Fall and Winter long.
You know everyone is going to be giving your delicious desserts some attention this holiday season! So make sure your presentation is perfect.
This cake stand is simple, but the hammered gold look makes it an instant classic!
Level up your serving game this holiday season – purchase this cake stand here.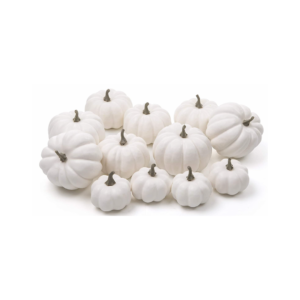 These adorable white pumpkins in assorted sizes are perfect for turning your "holiday" decor into "seasonal" decor that will feel appropriate for November and into the new year!
The mixed sizes mean that you can have lots of fun with placement and scale, and the white color palette allows these pumpkins to fit seamlessly into any holiday decor scheme.
Click here to get your hands on this perfect little pumpkin patch.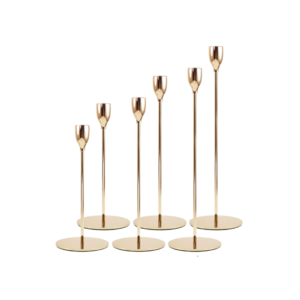 Nothing says "home for the holidays" like flickering candlelight. And taper candles are such a timeless option because they're both simple and sophisticated.
These decorative candlesticks pair perfectly with the other soft gold items in this collection, so go ahead and add them to your cart! You know you want to.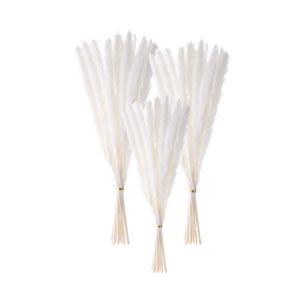 Take your holiday decor from Ho Ho Ho to Boho with just a couple bundles of beautiful pampas grass. These fronds really play into the Fall aesthetic of this holiday collection, and keep things feeling light and airy.
You can never have too many natural elements in your space, so have fun with these pampas bundles this winter.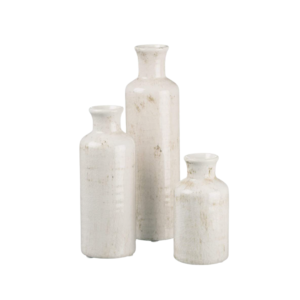 You were probably wondering how to style your pampas grass, right? Don't worry – I've got your back.
This set of three simple ceramic vases can be used all year round, but will look perfect with the rest of your Fall Festive Neutrals holiday decor theme. Gotta love multi-purpose items!
The price for these three vases is a great value for the style and quality, so make sure to grab this vase set today.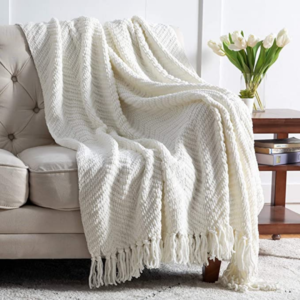 Holiday decor is all about striking that perfect balance between festive elements that make you smile and cozy elements that make you feel right at home. This simple, yet luxurious, knit throw blanket is all about comfort!
Knit textures instantly make a room feel warmer and more inviting so you can't go wrong with this throw in any space.
Make yourself some cocoa, throw on your favorite holiday movie, and snuggle up in this comfy knit throw blanket. You'll thank me later!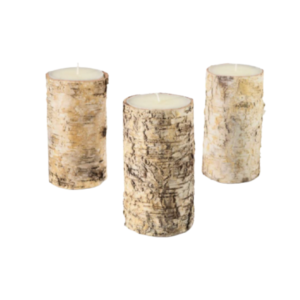 One of my favorite things about designing in the Boho Tone on Tone style is that it allows you to mix in a few tasteful, organic items like these gorgeous candles.
Although these candles are inspired by the simplicity of nature, they are also showstoppers!
There's something so unique about bringing the outside in, so make sure to bring these birch bark candles in… to your holiday decor this year.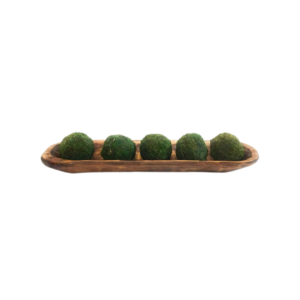 What I love about this "Festive Fall Neutrals" collection is that it incorporates some decor pieces that you can use in your home year-round, like this beautiful wooden display bowl!
Everyone knows that packing up the holiday decor is a bummer – so look for items that don't need to be hidden away 9 months out of the year, instead.
This bowl could be used to hold anything from candy in the entryway to soap in the bathroom, but I love the idea of displaying some extra greenery in your space with faux moss balls as shown above!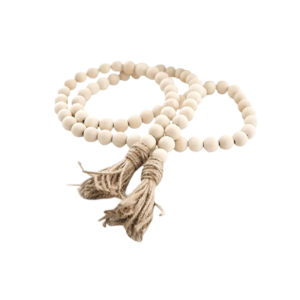 Just like the wreath that kicked off this collection, I'm finishing up with another unique take on a holiday classic! Garland is one of those "must-have" holiday decor items, but that doesn't mean you have to do it the same way as everyone else.
Choose something a bit more surprising – like this garland made with wooden beads and twine tassels.
And there you have it. With just 11 simple, affordable items, you have a whole holiday vibe! I call it "Festive Fall Neutrals."
Contact EDesigns and Co. if you need help styling the collection in your home this holiday season.
A Decorating Playlist Just For You
No one wants to set up their beautiful new holiday decor in silence… So don't!
Here's my recommended playlist: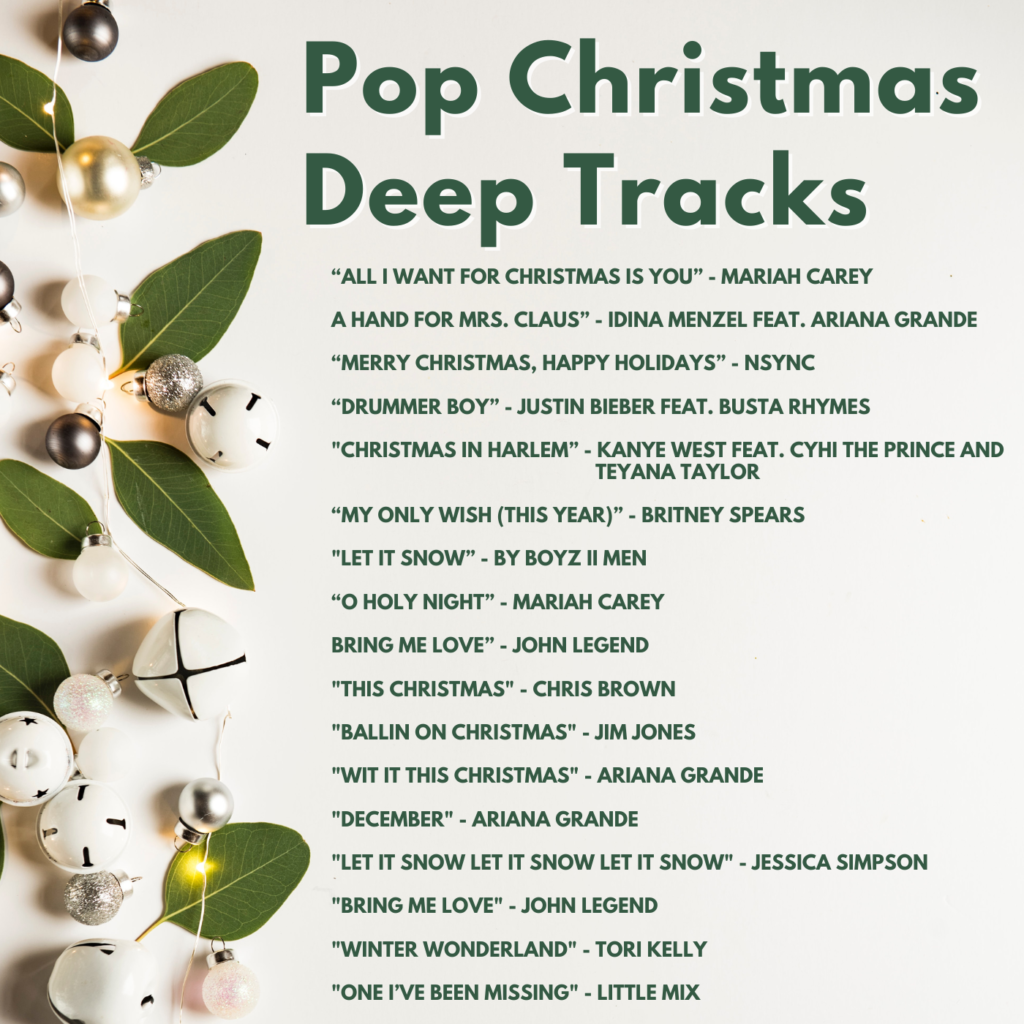 Your Post-Decorating Holiday Side
These scalloped potatoes will be the perfect treat all holiday season long.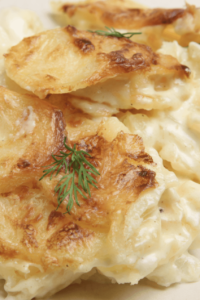 This dish consists of thinly-sliced potatoes layered with onions, cheese, butter, and milk.
By sprinkling flour over the potatoes and pouring over milk and butter, the sauce will bubble and thicken as the potatoes cook.
Ingredients:
Potatoes – I would recommend Yukon Gold or Russet potatoes for this dish. Both have just the right amount of starch, and the Yukons will hold their shape well after cooking.
Onions – I would suggest a good white or yellow onion or even a sweet Spanish onion.
Organic Flour – This is the key to the thick sauce. Instead of making a roux, the flour will cook with the butter and milk to create a wonderfully thick sauce right in the pan.
Organic Salted Butter – Butter adds a richness
Pepper Garlic Powder – For taste. I like to add it to the milk and taste that before pouring it into the dish.
Whole Organic milk – With cooking, it's always best to use full-fat! For a vegan alternative, try adding some coconut cream to dairy-free milk for a creamier texture.
Tips for the Best Potatoes:
When slicing your potatoes, be sure to keep them relatively thin.
Cut the onions and potatoes thin, use a mandolin.
Add a touch of water to the bowl and be sure to cover with cling film.
You could also try boiling them. Just be sure to drain them well.
Rub the dish with a clove of garlic before greasing to impart some subtle flavor.
Butter the dish before adding in the potatoes so that they don't stick.
Broil the dish for a few minutes when the cooking time is up for brown and crisp top.